Danger Gal Friday: Vickie Nelson
This week's Danger Gal profile is on Vickie Nelson, from LifetimeTV's show Blood Ties portrayed by actress Christina Cox. Nelson is a cop turned private investigator who solves supernatural cases after witnessing one herself.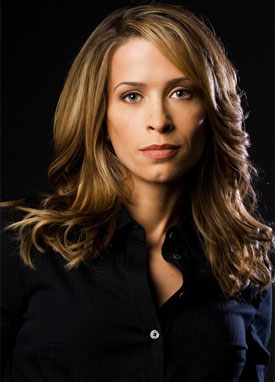 I only recently heard about the Blood Ties series, based on Tanya Huff's Blood Books, and I'm very glad that I did. It's refreshing to find a TV show that really and truly casts its female lead as the main character and the two male leads as sidekicks, albeit very interesting sidekicks, one of them a vampire. More than that, Vickie isn't a damsel in distress needing rescued by Henry and Mike in every episode. In a SciFi.com interview, Cox makes this very point:
Very often female characters, even leads on series, are these secondary characters that are really there to reflect the opinions and actions of the male lead.
This is refreshingly not the case with Blood Ties.
Some of the early episodes verged over into monster-of-the-week territory, but that's to be expected until the show's premise grows enough so that conflict can emerge from character instead of just plot. The series turned a corner in this regard at episodes six ("Loved Hurts") and seven ("Heart of Ice") and then again at the mid-season finale ("Norman").
The writers have created a show where the plot conflicts are resolved through the characters' team effort, which is unique. Case in point at the end of the second episode when Vickie is bound as a demon sacrifice; Vickie and Henry defeat the demon together — Henry by reciting the incantation and Vicki by breaking the demon circle with her foot. Another example is episode eight "Heart of Fire," when Mike breaks in to rescue Vickie from a starving and deranged Henry and offers himself as Henry's dinner. It's Vickie who reaches through Henry's delirium to convince him to back off before he kills Mike. And it's Henry who listens to her.
Blood Ties also breaks with stereotypes by casting an actress with some actual muscle to play a very physical role. Seeing an actress or actor with zero muscle pretending to bring someone down really knocks me right out of my suspension of disbelief. According to IMDB, Cox is "proficient in boxing, Muay Thai kickboxing and has extensive training in stage combat, period weaponry and firearms." It shows. Vickie, who is going blind and can't carry a gun, arms herself with a telescoping baton that she uses in a stick-fighting technique right out of the History Channel's Human Weapon show.
This physical proficiency and strength adds to Vickie's character, and both Henry and Mike regard it as an attractive aspect of her. They find her mental and physical strength to be sexy, something that had to be intentional by the writers. In that same interview, Cox relates her personal pitfalls about playing physically strong female characters:
Part of it was just that I've always been annoyed that women who are perceived as strong, they are somehow masculine, and that female strength doesn't seem to stand on its own. They have to be butch in some way in order to be strong enough to compete in a man's world.

I did The Chronicles of Riddick, and there were requests and discussions about giving me a butch cut and essentially dressing me like a guy, and I said, "This is not Vasquez from Aliens. She is not Vasquez." That character was a great sci-fi character, but this is a woman whose strength comes from who she is as a woman, and it's not about her wanting or needing to be a guy. She is actually tough enough on her own, from a female point of view, to do the job without having to strap her boobs down or shave her head. That makes me sad, that we feel like we have to emulate men in order to be strong. Vicki is really sexual. She's really feminine. She's really sensitive, and that's why she has to put that cover up, because she gets her tender little heart wounded too easily. So she's trying to muscle through a very difficult world and a very difficult job and stay alive. And I mean that on an emotional and a literal level.
The show also cast Vickie's assistant as female, a character victimized by a stalker in the pilot who turns that experience around into helping Vickie. Also, it's refreshing to see an older female character in Dr. Sagara.
Vickie Nelson isn't just strong of body and purpose, she is strong enough to resist a vampire's mind control, something that keeps Henry coming back again and again. Blood Ties has created a multi-dimensional female lead character who breaks stereotypes, maintains her femininity and has a sense of humor to boot. I really hope Lifetime TV picks this show up for a second season.
Blood Ties airs on LifetimeTV at 11pm EST.